EarthMan
Dion Laurent
Dion Laurent's art is one of reflection, using his lifestyle, studies and travels across his adventured world as inspiration for works ranging from painting, drawing, video and installation, to photography, performance and sculpture. Laurent reveals his hopes, suggestions, ideals and optimism in candid and passionate work that is frequently both tragic and humorous.

Laurent's art has an immediacy and often provocative attitude that firmly locates his work in social and environmental discourse. By re-appropriating conventional icons – or 'popular images' – for specific intentions, Laurent's work resonates with the environmental tenets of "wake up" and "act globally". In his EarthMan and related works, Laurent blends art and science, NASA and pop Andy Warhol, emulating the conditions of living in outer space here in the extremes of earth by combining the pioneering science and spirit of space exploration with contemporary art practice using cutting edge science, research, invention and materials in popular imagery. His work is characterized by the use of materials charged with historic and symbolic meaning, articulated in a language that references and reflects science as well as the broad realms of art.

Dion Laurent was born near Chicago in 1965. He has exhibited extensively internationally including solo and group exhibitions in England, France, Germany, Italy, Switzerland, Japan, Australia, Thailand, China, Brazil, Turkey and the USA. Dion' s work has been shown around the world in such diverse venues as The Art Car Museum in Houston, Texas, Texas A&M University Visual Arts Gallery, Art Forum Montreux, the Florence Bienniale, The Tennessee State Museum, performances inside and outside the Tate Modern, the Serpentine Gallery, Palais de Tokyo, Art Basel, Art Basel Miami Beach, Art Chicago, the Louvre, and Espace d'Animation des Blancs-Manteaux, Paris.

His new media works are featured on Furtherfield.org and archived on the Rhizome.org database of the New Museum, NY,NY. The "Golden Age of Barcodes" was among the video selections for FILE 05, SESI Gallery, Sao Paolo, Brazil, and FILE Rio 2006. Dion has lived, traveled and painted in Europe, Southeast Asia, the U.S. and Caribbean. He often intermingles the works from many countries with his studio works, and concentrates for several years on the development of various series, exhibits and installations. His exhibits generally are interdisciplinary installations.

Dion attended Texas A&M University in College Station and Belmont University in Nashville. He spent 7 years traveling the world with a backpack of supplies and painted, created and exhibited all along the way. He has lived and had studios around the world, including 6 years in Tokyo, across Asia, and on a small southern Japanese island in the Pacific. Laurent currently lives and works in South Central Texas.


EarthMan, Enchanted Rock will appear in the Environmental Art Calendar 2010 (due out Summer 2010) Edited by the Green Museum.
2010 ENVIRONMENTAL ART CALENDAR
Contemporary Art In The Natural World
AMBER LOTUS
Release Date: 01 July 2009
Format: Calendar
ISBN: 9781602372566
As one of the most exciting art movements of our time, environmental art celebrates our connection to the natural world through beauty, science, metaphor and ecological restoration. It encompasses a surprising landscape of approaches, from ephemeral "art in nature" sculpture designed to last only a few hours before returning to the earth, to community-based "eco-art" installations which clean up polluted watersheds and promote public understanding of local and global environmental issues.
The Environmental Art 2010 wall calendar features fifteen projects drawn from the global archives of greenmuseum.org, a not-for-profit online museum of environmental art. They provide a sampling of some of the latest developments in this field to stimulate the imagination and promote the role of art in the creation of a more sustainable world culture.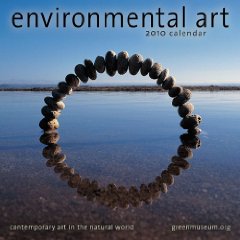 Amazon.com: Environmental Art 2010 Wall Calendar: Contemporary Art in the Natural World
Tower Books, Environmental Art 2010 Calendar, Contemporary Art in the Natural World

All text, images and web pages at earthman1.com are Copyright Dion Laurent 1990-2009. Use of any images without prior written consent of Dion Laurent is expressly prohibited. All rights reserved